Dr. Adewale (Wale) Ajumobi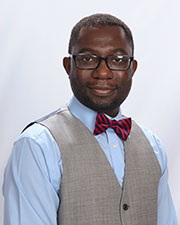 Dr. Wale Ajumobi is a board-certified gastroenterologist. He performs several GI and endoscopic procedures including upper endoscopy (EGD), percutaneous endoscopic gastrostomy (PEG) tubes, Bravo PH, breath tests, radiofrequency ablation (RFA), endoscopic mucosal resection (EMR), colonoscopy, capsule endoscopy, enteroscopy, and manometry. He is skilled in the removal of large colon polyps that would have otherwise required surgery.
He received his MBA from the University of La Verne, California. He completed his internship and residency training at Loma Linda University, California. After residency training, he worked as a staff physician with Loma Linda VA Healthcare System and as Assistant Professor of Medicine at Loma Linda University from 2008-2012. He then completed a gastroenterology and hepatology fellowship at University of Texas Health Science Center, San Antonio. He completed a certificate course in clinical safety and effectiveness at the University of Texas.
He has published many articles in leading journals and sits on the editorial board of a peer-review journal.
He is the recipient of several awards including the Steven Schenker "Editor-in-Chief" Award for the fellow with the most significant research contribution and the highest pursuit of scholarly activity.
He is the founder and editor of bowelprepguide.com, a website dedicated to providing bowel preparation resources to patients and providers. Dr. Wale Ajumobi is the recipient of the American College of Gastroenterology 1st annual Service Award for Colorectal Cancer Outreach, Prevention & Year-Round Excellence (SCOPY).
He is a fellow of the American College of Physicians and a member of the American College of Gastroenterology, American Gastroenterological Association, and American Society of Gastrointestinal Endoscopy.
He is married with 2 children. In his free time, he loves to hike and travel.